Foreign workers lack safety and health protections that exist under US laws. This story reflects what America was like without adequate workplace safety laws and enforcement. Today's post was shared by Steven Greenhouse and comes from www.theguardian.com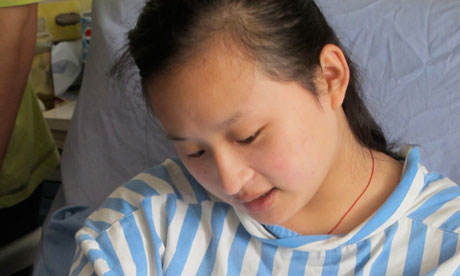 At around 8am on 17 March 2010, Tian Yu threw herself from the fourth floor of her factory dormitory in Shenzhen, southern China. For the past month, the teenager had worked on an assembly line churning out parts for Apple iPhones and iPads. At Foxconn's Longhua facility, that is what the 400,000 employees do: produce the smartphones and tablets that are sold by Samsung or Sony or Dell and end up in British and American homes.
But most famously of all, China's biggest factory makes gadgets for Apple. Without its No 1 supplier, the Cupertino giant's current riches would be unimaginable: in 2010, Longhua employees made 137,000 iPhones a day, or around 90 a minute.
That same year, 18 workers – none older than 25 – attempted suicide at Foxconn facilities. Fourteen died. Tian Yu was one of the lucky ones: emerging from a 12-day coma, she was left with fractures to her spine and hips and paralysed from the waist down. She was 17.
When news broke of the suicide spree, reporters battled to piece together what was wrong in Apple's supply chain. Photos were printed of safety nets strung by the company under dorm windows; interviews with workers revealed just how bad conditions were. Some quibbled over how unusual the Foxconn deaths were, arguing that they were in line with China's high rate of self-killing. However conscience-soothing that claim was in both Shenzhen and California, it overlooked how those who take their own lives are often elderly or women in...
[Click here to see the rest of this article]