Today's post was shared by CAAA and comes from www.theguardian.com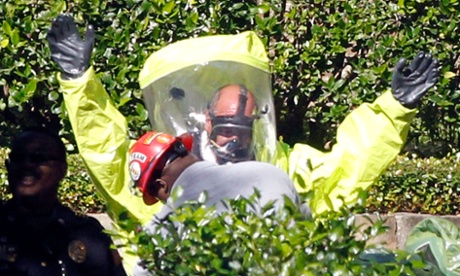 Cyndi Krahne is a nurse. Since the first Ebola patient died in the US, she has not worn her work shoes in the car. When she gets home, she follows a careful ritual in her garage: taking off her scrubs, stepping gingerly out of her shoes. She carefully wraps them in plastic and puts them in an out-of-the-way place where they won't touch anything. The shoes and the scrubs never make it into the house.
In a week when Dallas is considering declaring itself an Ebola disaster zone, nurses are nervous.
Krahne has five children. "I am concerned. I don't want them exposed," she says. She's seen infectious diseases before in the 10 years she has worked at the Kaiser Permanente Medical Center Santa Rosa, California. She's been careful – but never this diligent.
Fear is the reason for her conscientiousness. Krahne says she doesn't feel safe at work. She is still without training or protective equipment. Krahne's confidence is wavering that her workplace is as dedicated to her safety and well-being as she is.
"We haven't received any education, nor do we have proper personal protective equipment to care for patients with Ebola," she says....
[Click here to see the rest of this post]